FEEL LIKE YOURSELF AGAIN!
LC ADVANCED FORMULA +
For people suffering with a Persistent Cough as a result of Covid and other colds and viruses. To help relieve your cough you should also:
THE SCIENCE BEHIND
OUR FORMULA
Our formula to help with Persistent Coughs has been developed using natural ingredients researched by experts and developed by scientists. We only use the purest and most effective ingredients possible to develop high-quality products that are safe, natural and backed by leading scientific studies.
NAC

The amino acid NAC has been shown to normalise mucous production and help normalise inflamed lung cells which means less coughing.
GINGER

Ginger has traditionally been used to reduce coughs for many centuries, and we now know that the main extracts called gingerols are responsible for this effect.
Vitamin C

Vitamin C (Sodium ascorbate) is known to help the lungs function normally in various disease states.
SYMPTOMS OF LONG COVID
The National Institute for Health Care Excellence(NICE) defines Long Covid as signs and syptoms that develop during or following an infection consistent with COVID-19 which continue for more than 12 weeks and are not explained by an alternative diagnosis. Experts aren't sure why viral respiratory infections
sometimes lead to a chronic cough, but it may be related to an inflammatory response to the infection that damages the
lining of your airways, causing you to cough, or increased sensitivity of the coughing reflex following an infection. Long Covid usually presents with clusters of symptoms often overlapping, which may change over time and can affect any area of the body. We have developed formulas to help tackle:
BRAIN FOG - PERSISTENT COUGH - SLEEP
If you are pregnant, breastfeeding, taking any medication or under medical supervision, please consult a doctor or pharmacist before taking supplements. If you suffer any adverse reaction whilst taking a supplememt, discontinue and seek medial advice.
REVIEWS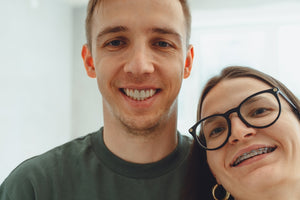 "I'm coming to the end of this month long course of tablets and I haven't had a cough. This is incredible for me who ALWAYS has a persistent niggly cough!"

Gary Hilton
My mother has had a persistent cough for months. She's been taking this supplement for about a week. It hasn't eliminated the coughing but it seems to have shortened the coughing fits and made them easier to control. Hopefully it continues to improve the situation"

Raine W
NAC (amazing stuff), ginger (amazing stuff) and Vitamin C (amazing stuff) - just brilliant all round from an excellent company. Helps to keep away the winter sniffles and help with a persistent cough. Just marvellous!" Yay

Yay
PRODUCT FAQS
HOW MANY SHOULD I TAKE?
We recommend taking two capsules once daily, in the evening prior to going to bed, or as directed
by your healthcare professional. Do not exceed the stated dose.
WHEN SHOULD I START TO FEEL THE BENEFITS?
This will vary from person to person, but we would expect that after a few days you should start to feel the benefits.
How long should I take the supplement for?
Covid may have exasperated the problem as you may have been experiencing mild symptoms prior to catching Covid. We would recommend taking our supplement for a few months. You could then try and stop taking the supplement to assess how you are feeling. If
you are worried by your Cough, you should seek medical advice.
Is it safe to take alongside other medication?
All the ingredients are natural but you should consult a doctor if you are unsure.
HEALTH & WELLBEING MADE SIMPLE
Live your life focusing on what's important and let us handle the rest. Our easy to use subscription
means you'll always be in control of your health, save time and enjoy discounts.
SAVE MONEY ON
EVERY ORDER
EASY TO SET UP, CANCEL ANYTIME
DELIVERED DIRECT
THROUGH YOUR LETTERBOX